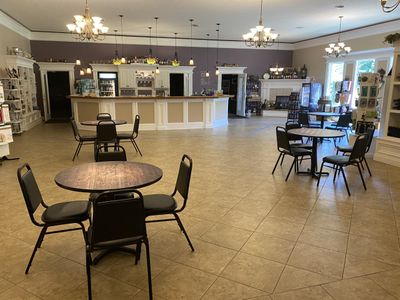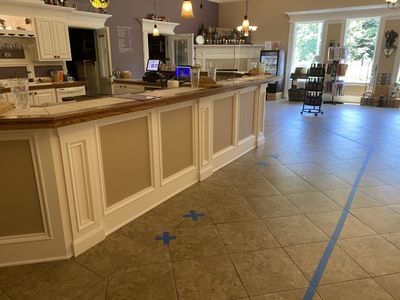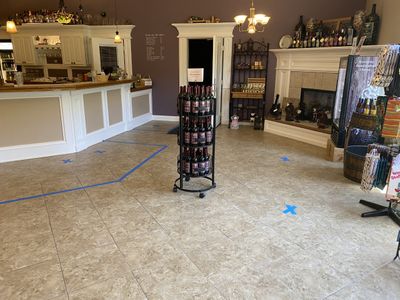 What is expected of visitors?
Please be patient! Our staff will be limited! To safely serve all our guests, the experience or checkout process may take longer then what is customary
Use our restrooms to wash your hands or use hand sanitizer upon entry.
Monitor your distance from others while visiting (outside as well as inside)
Only touch items you intend to purchase.
Masks are recommended, except while doing tastings at our bar or seated at a table.
If you are sick, or suspect you might be infected, please stay home.
Current Capacity
We are currently at 50% capacity.
Our Tasting Room can have 25 people max. We have seating for 16 and 8 can be at our bar for tastings.
We have additional indoor seating for on-site consumption in our Barrel Room (24 people max), and seating for 16 on our patio outside.
If we reach max capacity you may be asked to wait outside or in your vehicle.
Tasting Procedures
Tastings are walk-in only, no reservation required! Our tasting bar closes 1/2 before we do each night.
All wine tastings will be done at our bar in the tasting room in groups of two people. Groups larger than two will be asked to split up.
If we are experiencing wait times, we will add your party to our wait list and ask for a phone number to call when were ready for your group. We will be able to give you an estimated wait time. We will hold the spot at the bar for 10 minutes before calling the next group in line. Wait times are typically less on weekdays compared to weekends.
Tasting cost is $5.00 to try 6 of our award-winning wines.
Reservations
We are not currently accepting reservations for groups of 8 ppl or less. All tastings will be offered on a first come, first serve basis.
Groups with 10 or more people must make a reservation. See Group Tastings for information.
Please visit our Event Space page for information on booking a private room for a party.
Group Tastings
We can currently offer groups tastings for groups of 10-20 people. Tasting cost is $5.00 per person and dates are subject to availability. Call us at 502-531-9610 for reservations.
On site consumption?
You can get a glass (or bottle and perhaps some cheese and crackers while you're at it) and enjoy it on site. Just order at our register inside. We have minimum seating indoors in our barrel room, and a covered patio with ceiling fans outside.
Unfortunately, we can not offer wines or slushies by the glass to go.
Ordering bottles to go?
Rather have your wine at home?
Those wishing to purchase bottles to go are welcome to come in and purchase at our register. If there is a line, we have social distancing space set up. Please keep these groups to just one person if at all possible.
For faster service and/or less contact, you can pre-order online or by phone for in-store pick-up and curbside upon request.
Winery Cleaning Procedures
If you choose to visit us, please know that we are doing everything we can to keep our winery germ-free.
Our staff will will be washing their hands often! We encourage you to do the same!
The tasting bar, wine menus, and tables will be wiped down in between groups. High contact objects are being cleaned several times throughout the day with the appropriate EPA registered cleaners. Bathrooms are being monitored and cleaned as needed as well.
Do you offer food?
We sell assorted cheeses from Kentucky Proud Kenny's Farmhouse Cheeses, and Black Belt Cheese spreads. You are welcome to bring a picnic with you.
We offer disposable flatware, napkins, and plates for your use.
Children and Pet Policy
People under the age of 21 will not be denied entry but they will not be allowed at the tasting bar. Our children's play room is currently closed.
We are pet friendly. Dogs must be on a leash while in the winery. If your pet is disturbing others (barking, jumping, etc), we will ask you to retire to our patio.
You may get a chance to meet our very friendly Pest Control Manager (AKA: Ava the Wine Cat).
What else is in the area?
Planning a trip? Our county has three other wineries, two world famous bourbon distilleries, Bernheim Forest and Arboretum, and more. We would advise calling before visiting any area attractions.
What about charitable donations?
We take pride in our support of local nonprofit organizations. As a family owned winery we understand the challenges behind raising the funds needed to be successful. Each year we receive hundreds of requests for charitable donations and unfortunately we are unable to donate to them all.
Please download our request form for more information or to request a donation from our business. We review requests monthly.